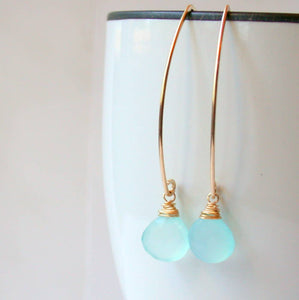 A curving, elegant ear wire suspends a pretty drop of faceted chalcedony.* Shown in 14k gold fill, also available in sterling silver. Earring measures approximately 2.25".
Handmade in California
*Chalcedony has the power to soothe self-doubt and bring inner peace to the wearer. It is believed that blue chalcedony helps in calming and centering the emotional energy, while encouraging the wearer to acquire tranquility. Chalcedony is a cryptocrystalline from silica, composed of very fine intergrowths of quartz and moganite.